Inspiration is everywhere, or is it?
Isn't it frustrating when you sit down to write, or buy a thoughtful gift, or redecorate a room, or do anything that takes creative juices, and you draw a blank. What could be the problem? You take a hot shower, take deep breaths, and start again. Still nothing.
Maybe you should take a nap, have some coffee, and recharge. Still nada.
At this point you start hunting inspiration like prey. Was that bum sleeping on the bench inspiring? Was that bored child at lunch a character in your future book? Did that guy who flipped you off on the interstate give you insight?
Maybe — but on most days, not so much.
So what is inspiration, and how do we find it in our everyday lives?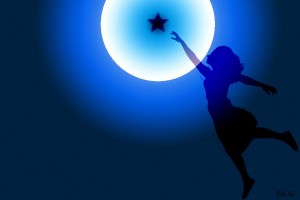 Inspiration is all about being motivated, creative, and wide awake. It's like seeing the big picture in a single image. Steam escaping a cup of coffee, a wildflower creeping through the cracks of a sidewalk, a blank piece of solid white paper, all hiding in plain sight just waiting for you to notice them.
Here are a few ways to make those images pop, with a little patience of course.
1. Put yourself in a timeout like a three year old — You will eat that meatloaf or you will have it breakfast. Sometimes you just have to fight your way through by continuing to work on the end objective, no matter how much you resist.
2. People watch — Go somewhere you rarely go like the mall, downtown, the park, the movies on a Friday night, Wal-Mart. Find a place to perch and politely watch people as if you are waiting for your mother to come out of a shop or around the corner. Don't be creepy, but observation of life is a huge part of getting inspired.
3.  Don't be in a rush — Sometimes it doesn't come to you right away. You have to sit and you have to think. Even though you don't feel like you're making any headway, I promise your a-ha moment is right around the corner. You just have to stew in that big ol' pot of life for a while.
What has inspired you lately?
I love the movie The Wizard of Oz, and I actually studied the book in college. So I was piddling around my home office, practicing with wire, and the song "Somewhere Over the Rainbow," sung by, Israel Kamakawiwo'ole came on, and I asked myself, what would the earrings that matched this moment look like?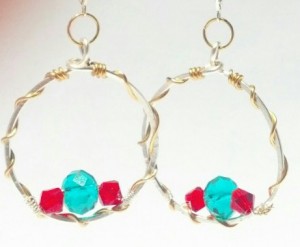 I gave them a silver base, because in the book, Dorothy's shoes were silver. But I couldn't leave out the ruby slippers the movie made famous! Oh no, so I had to put the sparkly red beads in there. The Emerald City is in the center and the gold wire wrapping the silver loop is the yellow brick road.And finally when you put the pair together, they kind of look like glasses with emerald pupils because in the book the Emerald City wasn't emerald at all. It was white and everyone wore goggled that made it appear emerald.
Do I overthink things? Maybe…but you can't say these earrings weren't inspired!
Of course this was my vision, but everyone is different. So roll up your sleeves and start discovering what inspires you! A walk in the park doesn't do it? Maybe you prefer taking pictures of old barns. Or floating in a tube down the river.
Holly Golightly found inspiration at the store Tiffany's, Bill Clinton played the saxophone, James Brown did splits, and Bugs Bunny dressed as a woman. Nobody's judging you Bugs!